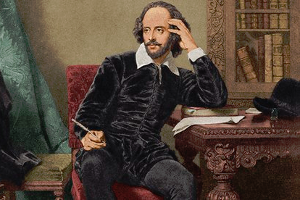 Be not afraid of greatness: some are born great, some achieve greatness, and some have greatness thrust upon them. –William Shakespeare
Shakespeare aficionados will come together on 23rd April to celebrate his amazing life and works. This year's National Shakespeare Day marks the 401st anniversary of his death. His actual birthday remains unknown since birthdates were not recorded during his time. This annual event also coincides with St. George's Day.
William Shakespeare is considered as Britain's greatest playwright and poet. Pageants dedicated to the renowned literary genius are held at Stratford-upon-Avon in Warwickshire, his birthplace. Thousands of tourists visit the place to witness the performances of his classic plays. The Holy Trinity Church, the Christian church he attended when he was young, rings its bells during the procession. Going towards his grave, this procession is led by the mayor of Stratford with bands, dignitaries, actresses, dancers, and pupils.
Works of William Shakespeare
Shakespeare's contribution to literature and to the English language is infinite. Apart from creating some of the best literary works of all time, he introduced new vocabulary and phrases still used today. According to English scholars, he coined about 1,700 words out of the 25,000 words in the dictionary. Before and during his time, English grammar and rules have not been standardised yet. The popularity of his plays in the 17th and 18th centuries somehow influenced the standardisation of the English language.
Theatre may have been around before his time but the Bard of Avon has certainly revolutionised it. Only the educated and wealthy used to have access and appreciated the theatre. His plays appealed to the masses because of his relatable themes rather than the reflection of rich people's lives. The audience participated with the happenings on stage, joining the conversation and even becoming boisterous. It was hard to determine if they were just audience members or actors in the play. In terms of the content, Shakespeare had multifaceted characterisations and extraordinary journeys that captured the hearts and minds.
Aside from being a great storyteller, Shakespeare devised genres that combined comedy and tragedy. His most popular works include Romeo and Juliet, Hamlet, The Merchant of Venice, Macbeth, Othello, and Midsummer Night's Dream.
How about you, what is your favourite Shakespeare quote or masterpiece? If you require assistance in writing an essay about this legendary playwright, we will gladly help you. Please fill out the order form and we will get back to you as soon as possible.