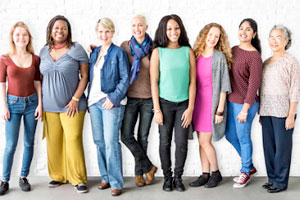 Today, 8th March, women come together to empower each other, call for equality and celebrate International Women's Day. IWD is not affiliated with any particular group but unites governments, corporations, women's groups, and charities.
IWD 2017 Themes
This year's campaign official theme is #BeBoldForChange. It is a call for everyone "to help forge a better working world – a more gender inclusive world." Through purposeful partnerships, women can foster change and show their infinite potential to the world.
On the other hand, the United Nation's theme is "Women in the Changing World of Work: Planet 50:50 by 2030." UN Women Executive Director Phumzile Mlambo-Ngcuka discussed in her speech the unequal division of labour at home. She said: "Across the world, too many women and girls spend too many hours on household responsibilities." Because of this, women and girls could not focus on school, paid work, sports, or community leadership. This somehow molds the standards "of relative disadvantage and advantage where women and men are positioned in the economy." It also sets what females will be skilled to do and where to work.
About IWD
International Women's Day was formerly known as International Working Women's Day, remembering women's struggles for human rights. The first organised celebration took place in New York on 28th February 1909. It was to commemorate the 1908 strike of the International Workers' Union where 15,000 workers marched for social and political rights.
The first modern IWD was held on 8th March 1914. This particular day was chosen since it was a Sunday, a day most women had off work. Germany dedicated their observance to women's right to vote. Meanwhile, in London, people also marched for the same cause, leading to the arrest of Sylvia Pankhurst. She was an English campaigner of the suffrage movement.
IWD continues to be celebrated today mainly because its original aim to attain full gender equality hasn't been realized yet. Sadly, there is still discrimination in the work force around the world, may it be in business or politics. Figures continue to show until now, there is a huge gap between men and women in health, education and violence.
If you need help in writing an essay about the IWD, we will be happy to be of assistance. Simply fill out the order form and we will get back to you as soon as possible.