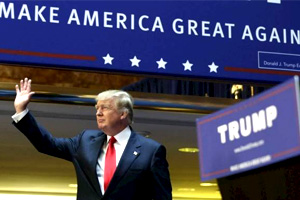 Republican candidate Donald Trump's astonishing victory over Hilary Clinton at the US Presidential elections has elicited mixed reactions. It has left not just America but every other country scuffling to figure out how this will affect them. What would be the possible impacts of the Trump presidency to the United Kingdom?
Reactions of World Leaders to Trump Presidency
The United States is considered a superpower country, which is why the presidential elections outcome greatly affects the entire world. Doubt and confusion have been the general response since Trump has no political experience and he currently faces several controversies. The hotel tycoon has been accused of being a racist, bully and misogynist. On the other hand, his camp and supporters claim that the media are just giving him a bad name.
The response of world leaders ranges from eager support to utter concern. Canada, Germany, China, India, and Germany expressed positive responses, focusing on long lasting relationship with the US. The UK also shared the same sentiments. In fact, Prime Minister Theresa May pledges to protect US industry and end a series of free trade agreements. Russia has also expressed openness to the not-so-easy path of mending its relationship with the superpower country.
On the other hand, France and Libya expressed uncertainty about Trump's victory. Mexico's reaction was lukewarm certainly because of Trump's plans to construct a border wall, which he wants Mexico to pay for. Mexican President Enrique Peña Nieto repeatedly said that they will not pay for this.
Impact of Trump Presidency to the UK
Realistically speaking, the impact of Trump's win to the UK may still be difficult to assess right now. Experts believe that the UK economy is likely to lose momentum because of the British Exit. Although it is yet to be seen, it could further go down if the president-elect's policies slow the world economy. The fears of global decline come from the distrust in Trump and that he will cause a world trade slump. There are signs already that the UK pound failed to attract investors looking for trusted markets after Trump's win.
On the contrary, Trump was clear about putting up trade barriers and doing away with free trade deals. He openly expressed that he is a strong supporter of Brexit, even hailing it as a "great victory." During the elections, he ensured that Britain will be one of America's priorities when it comes to trade deals. He dismissed President Barack Obama's warning that Brexit would repulse the UK-US trade deals. It is noteworthy that the US is currently the UK's number one export partner. Some analysts feel that Trump's protective measures are directed at cheap manufactured products, not the high-end services the UK offers. This means that there is little reason to believe that any new barriers will be established for UK companies.
In your opinion as students, what will be the long-term impact of Trump's presidency to the UK? If you are required to write an essay about this topic, we at Essay Writer can certainly help you. All you have to do is fill out the order form to get started.