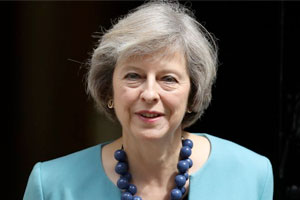 UK Prime Minister and Conservative leader Theresa May plans to reintroduce grammar schools and aims to end its 18-year ban. May, who is grammar school educated, believes that it is time to bring back selective state education. For her, children should be allowed to shine by being challenged academically in grammar schools.  This plan received mixed reactions as some consider this a backward step, rather than an improvement to the education system. Education Secretary Justine Greening, for her part is open-minded on the issue.
Grammar schools are state secondary schools that choose pupils through the "11-plus" test. It is an examination for 11-year-olds that tests the readiness of kids in a grammar school environment. Some people criticise the nature of the exam, which usually includes questions not taken up in regular state primaries.
Former Prime Minister Tony Blair banned the opening of new grammar schools in 1998. Reports suggest that the May will announce the new policy in education during the Conservative Party conference this October.
Optimism on Grammar School
Out of over 3,000 state secondary schools in England, there are currently 163 grammar schools. On the other hand, there are only 69 in Northern Ireland. A recent survey has revealed that 7 out of 10 Brits want the ban to be lifted. 80% think that this move will enhance social mobility.
Conservative Party member Graham Brady believes that this new move will raise the standards of state education. According to him: "Scrapping Labour's absurd ban on grammar schools would be great news and an early achievement for Theresa May's government."
For Tory MP Gareth Johnson, the restoration of grammar schools makes sense. He thinks that thousands of kids can benefit from increased social mobility and the opportunities it generates. Other Conservative proponents of grammar schools also believe that selective education at the age of 11 can sort out the effects of poverty or lack of ambition at home.
Critics often point out that children are forced into the "scrap heap" at a young age. However, there are many who succeeded even if they failed their 11-plus. They went on to resit at 12, 13 or even 14 and still gained advantage from the grammar school system. 
Cross-Party Opposition on Grammar School
Critics of selective state education rejected the idea that it boosts social mobility. For shadow education secretary Angela Rayner, "Selection belongs in the dustbin of history and has no place in modern society. There must be no going back."
Labour and Liberal Democrats parliament members vow to fight against new grammar schools. Labour leadership contender Owen Smith thinks grammar schools "entrench disadvantage" rather than overturn it.
Meanwhile, other Conservative MPs are also opposed to this education policy change and think that it is a mistake. According to Ryan Shorthouse: "Some individuals from modest backgrounds have benefited from a grammar school education." He added that poorer pupils from selective areas do worse on average. He thinks that the move to lift the ban is for political positioning Shorthouse is the director of the Bright Blue thinktank for Conservative modernisers.
For Mark Pritchard, Conservative MP for The Wrekin, existing grammar schools should be allowed to expand. He thinks it is not necessary to build completely new grammar schools.
Lib Dem leader Tim Farron said that there would be a collaborative cross-party effort in both parliamentary chambers to prevent the plans. He further said that he would be happy to work with people on all sides.
If you are required to write an essay regarding this issue, we will be happy to be of assistance. On the other hand, since it is the start of resit exams in some unis, we can also help you prepare for it. Please do not hesitate to contact us or fill out the order form to get started.