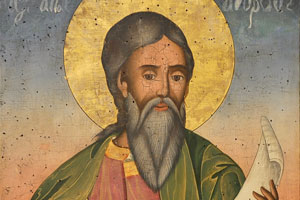 St. Andrew the Apostle has a special place in the hearts of Scots. In honour of Scotland's patron saint, 30th November is considered a bank holiday to celebrate St. Andrew's Day. This feast day is not only celebrated in Scotland, but in other parts of the world especially countries that consider him their patron saint. These include Greece, Bulgaria, Ukraine, Colombia, Cyprus, Poland, Romania, and Russia.
St. Andrew and his unbreakable ties with Scotland
St. Andrew has been an important icon in Scotland for more than thousands of years. In fact, celebrations in his honour were held as early as 1000 AD. However, he only officially became the nation's patron saint in 1320 after the declaration of Scotland's independence with the signing of The Declaration of the Arbroath. His ties with Scotland became unbreakable with its flag having been based on the patron saint's x-shaped crucifixion on 30th November in 60 AD.
With humble beginnings, St. Andrew was born in Galilee, now part of Israel. Some people wonder why he became Scotland's patron saint when he was born in another country. The answer for this is that Scots were inspired of his life and found a national symbol in him. The people believed that some his most prominent traits are reflective of their own characteristics. One of which is generosity. He has a simple and doable philosophy: Take what you have and share it with the less fortunate.
Scots have always followed St. Andrew's lead in terms of his fairness and kindness. Scotland takes pride on having a cooperative spirit with its people always happy and hospitable to guests. On a deeper level, Scots go out of their way to help the less fortunate through charitable causes, which are evident in social enterprises flourishing across the country.
St. Andrew's Day Events
Are you ready for a whole day of Scottish culture celebrations? Prepare for family bonding over local haggis and whisky. However, if you prefer to do something different this year, here are two St. Andrew's Day events that you might enjoy.
Illumination: Harbour Festival of Light

This is something that the whole family will love to experience. Taking place on 30th November to 3rd December in North Ayshire, this light festival is staged by the Scottish Maritime Museum. People will not only marvel at the spectacular fireworks that would illuminate the sky, they will also be treated to other fun activities. There will be lots of food bazaars, a craft fair, whisky tasting, and skiff racing, among others. Visitors can also join the fun Lantern Parade and Illumi Bike Ride.

Andrew's Day Torchlight Parade

If you are right around Glasgow, you will spendig only £8 to £10 for a torch, which already includes a donation to charity, for a magnificent night. Presented by Glasgow West End Festival, the torch parade includes pipe bands, fire dancers, and musicians. Those who do not want to hold a torch during the procession will only pay £3. The parade starts at 6:30 pm at Quenn Margaret Drive and ends at Kelvingrove Art Gallergy and Museum.