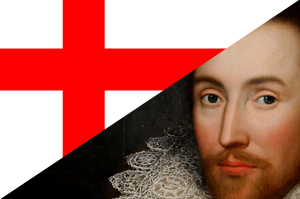 Every 23rd April England celebrates St George's Day to honour its patron saint. Every country in the UK has a patron saint that was called upon when the country needed to be saved from its enemies. For England, this was the brave Roman soldier who protested against the torture of early Christians in the 3rd century.
His influence in England is so strong that his emblem, a red cross on a white background, is the flag and symbol of England and is also part of the British flag. He is identified with the English ideals of honour, bravery and gallantry.
Traditional ways to celebrate St George's Day are to wear a red rose on one's lapel, fly or adorn the St George's Cross flag in some manner, and decorate streets and houses with garlands of St George's crosses while consuming traditional English food and drink. The hymn "Jerusalem" is also sung in cathedrals, churches and chapels on the day itself or on the Sunday nearest to it.
The 23rd April is also widely recognised to be the day on which England's most famous poet and playwright, William Shakespeare was born and died. Thus, Shakespeare Day is also commemorated on this day in his hometown Stratford upon Avon and by enthusiasts of his work throughout the world.
Shakespeare is regarded in high esteem because he produced plays, poems and sonnets which are considered to be some of the finest works in the English language. His writing is characterised by fluid thought, word, rhythm and sound that he is considered to be a master of the artistry of the English language. His work has made a lasting impression on theatre and literature. His plays remain popular even today, having been translated into various languages and performed in stages all over the world more often than the work of any other famous playwright.