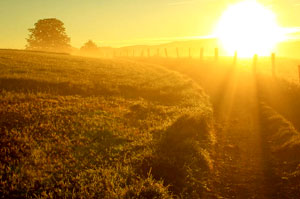 For the first time since 1948, the Summer Solstice or the longest day of the year has coincided with the June full moon called the Strawberry Moon. The 17 long hours of sunlight will yield bright moonlit skies and such extraordinary astrological event will be witnessed around the world.
The sun has risen at 4:45 am today in the UK and it will set at 10:34 pm. Grey skies and heavy rains have greeted the official beginning of summer. However, people are expecting to have clear skies just in time for Summer Solstice celebrations.
Summer Solstice
Two solstices take place around the world, when the sun reaches its highest or lowest point from earth as it circles the sun. In the Northern Hemisphere, the Summer Solstice happens in June, while the Winter Solstice, which is the shortest day of the year, takes place in December.
A lot of pagan groups consider this day sacred and include it in their yearly holidays. This celebration also entices non-pagan curious tourists. About 25,000 people are expected to assemble at Stonehenge in Wilshire in celebration of Summer Solstice. It is the most popular venue to celebrate this day because this prehistoric monument (built in three phases between 3,000 BC 1,600 B.C.) is parallel to the solstices. The rising sun only extends to the middle of the stones once a year, when it shines on the central altar. It is believed that the original builders of the Stonehenge took massive bluestones from the Preseli Hills in Pembrokeshire to form the inner ring of stones at the monument.
Some druids and pagans perform a fire ritual to celebrate this day. People form a circle around a large central candle and light their own candles off it together. This ritual comes from the idea that flames keep the dark away.
Strawberry Moon
The name does not necessarily denote the moon appearing red or have anything to do with any actual astronomical phenomenon. The sun's glow will actually be more of warm amber. The name was a romantic label created by ancient North American Algonquin tribes signaling the start of strawberry picking season. The Strawberry moon was also known as the 'honey moon' or 'full rose moon' because of summer's colourful and flowery atmosphere.
We typically see the full moon as months come to end, and it has been predicted by mathematical models that it can occur on the same day of a solstice every 15 years. The last occurrence of Strawberry Moon on the Summer Solstice transpired on 22nd June, 1967. The next occurrence will be 46 years from now, which will be on June 21, 2062.