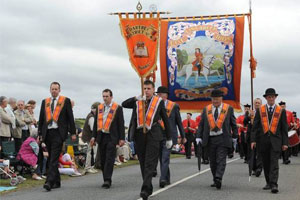 12th July is a bank holiday in Northern Ireland to commemorate the Battle of the Boyne, known as the Twelfth. It was a battle in 1690 between Protestant King William of Orange and Catholic King James II. King William's victory at the River Boyne, began the Protestant Ascendancy in Ireland.
History of the Twelfth
The Twelfth has various names such as Orangemen's Day, Orange Day and the Glorious Battle. It happened on 1st July in the old-style Julian calendar. The equivalent of this day to the Gregorian calendar is 11th July. However, it has now been celebrated on the 12th when the pivotal Battle of Aughrim occurred a year later.
The kings fought not only for the British throne, but also for religious power in Ireland and supremacy in Europe. It is one of the well-known battles in the history of the British Isles. This was the final time two crowned kings of England, Scotland and Ireland fought and commanded their troops in person. William's army (Willimites) was composed of 36,000 Dutch, Danes, English, Scottish, and French Protestants. On the other hand, 25,000 Irish Catholics comprised James' men (Jacobites), which included 6,500 French troops under King Louis XIV.
Unlike usual battles where casualties are quite high, this battle only had about 2,000 out of 50,000 men. William aimed for his enemy's retreat, rather than death. He was reluctant to harm James since he was his uncle and his wife's father.
The Battle of the Boyne continues to be a controversial topic in Northern Ireland. Most Protestants consider it a great victory over Catholics that caused the autonomy of Parliament and Protestant monarchy.
Celebrations on the Twelfth
Celebrations for the Twelfth start weeks early, with Orange Order holding various mini marching band parades in Northern Ireland. Protestant areas are decorated with Union Jack and Ulster flags, and buntings from June to August.
The night before the Twelfth, Protestant unionists hold the Eleventh Night. It involves gigantic bonfires, which are mostly family-friendly events. On the 12th of July, large parades start from an Orange Hall and progress through the main towns and cities. After a church service, attendees eat, drink and listen to speeches by politicians, clergymen and Order members.
This year, around 5,000 Orange Order members and 80 bands are taking part in the flagship parades in Portadown and Kilkeel. The group promises to deliver "an enhanced cultural experience" for viewers. The main parade starts at 10:15 am and will pass though Bridge Street, High Street, Market Street, and Church Street.
The Twelfth can be a tense time since half the population in Northern Ireland is from an Irish Catholic background. Political leaders have appealed to have a peaceful day for both Orange Day attendees and protesters. They advised that merriments should be done in a peaceful manner and protests should not undermine law and order.
We at Essay Writer would like to wish all Protestants in Northern Ireland a great and peaceful Twelfth celebration. Should you require our assistance in any of your religion-writing project, please feel free to fill up the order form.