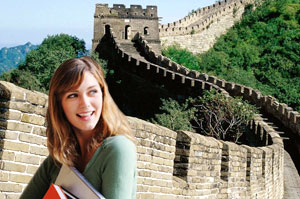 The support for UK students' internships and academic scholarships in the world's second economic powerhouse is indubitably growing. The Minister for Universities and Science, David Willetts, sees this partnership with China as an "exciting" page for UK's higher education system.
This goes to show another era of patronising the so-called, "international perspective." This outlook is a widely recognised credential, which at this rate of unemployment, is perceived to help save UK's graduates.
The Chinese edge
Getting UK's student population to spend half or a whole year at a Chinese university or a specific industry has become an acceptable norm. With the Asian country's rapid-paced development, this trend could see a transition: from a simple initiative, to an indispensable move.
Willetts, in his statement, has proffered several identified benefits for UK's students:
Gains significant exposure to "different cultures;"
Boosts their employability meter for both UK and international employers; and
Become an active contributor to UK's economy.
In short, deciding to pursue scholarships and internships in China puts UK students in a "more competitive position." The Government is keen to support organisations that actively facilitate such linkages – one of which is British Council's Generation UK initiative.
Generation UK
The initiative has already been launched last year and its profile is as follows:
'Generation UK' is part of a three year outward student mobility project aimed at encouraging more students in the UK to undertake study and/or internship placements in emerging economies such as China. Through interning or studying abroad, UK students can acquire global mind-sets and competitive skills, thereby positioning themselves more advantageously in the international labour market.
Locations for the two-month internships are spread among six cities: Beijing, Chengdu, Qingdao, Shanghai, Shenzhen and Zhuhai. Scholarship options, on the other hand, are inclusive of the China Scholarship ("mainland China"); Tianjin Scholarship (Tianjin Polytechnic University); Shandong Scholarship ("17 host universities"); and the Study China Programme.
More supporters
Apparently, students aren't the only sector thrilled here; UK's business leaders are demonstrating a revitalised interest in today's UK students. Last month, a "delegation of business leaders" went to China for a visit and in support of British Council's initiative.
Recent figures highlight a wide gap of student population between "Chinese students in UK" and "UK students … in China." With the initiative and the Government and business sector's support, this gap is guaranteed to come to a close.
British Council's Michael Peak is convinced that this move towards China's standard of education and work experience is progressively directed towards the benefit of UK.
China is one of the major economies in the world and set to be a major influence. We think it's better to engage with other countries than shut them out."
BBC
To ensure that prospective students are geared ready for China, they are encouraged to connect with some of the participating students. The British Council has collected and made accessible some incredible testimonials.
As Kamran Malhi, a language student puts it: "Studying in China is a world away from studying in the UK." This sure marks the difference of the Chinese edge.
Are you up for this China-exposure, too? Or do you prefer another country?