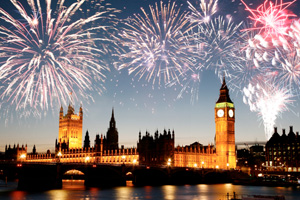 The autumn sky in London will be colourful and bright on Saturday, 5th November for the Bonfire Night 2016. Extravagant bonfires and fireworks displays perfect for the whole family will be held in different parts of the capital.
History of Bonfire Night
The history behind this annual event is like no other. The Bonfire Night is a British tradition that commemorates the failed Gunpowder Plot in 1605. It is also called Guy Fawkes Night, named after the Catholic man who plotted to assassinate Protestant King James 1. Fawkes conspired with other discontented English Catholics to blow up the Houses of Parliament or the Palace of Westminster.
On 5th November, Fawkes was discovered at the last moment. He was arrested and tortured at the Tower of London until he squealed the names of his accomplices. The following year, Parliament declared this day a national day of thanksgiving. People would burn effigies of Fawkes, referred as "the guy" on top of bonfires. They would also watch celebratory fireworks for the failed assassination.
Bonfire Night and Fireworks Display 2016
Those interested to watch the magnificent firework displays can choose from the various events in the region. Plus, if you do not want to spend money to do so, there are stunning free shows for you. In Birmingham, one fireworks display you should not miss is at the Edgbaston Stadium. A pop-up Bonfire celebration will also be held at Digbeth Community Garden.
Various flamboyant events are taking place in Solihull as well, which include a free event in Dorridge. More extravagant displays with corresponding fees will be held at Old Edwardian FC Rugby Club. Solihull Round Table's yearly charity fireworks event will be hosted by Tudor Grange Park.
If you are within Staffordshire area, drop by the Drayton Manor Theme Park in Tamworth for their annual fireworks spectacle. For a free show, you may head to Tamworth Castle. Alton Towers also boasts of one of the largest multi-media fireworks displays in the UK.
Various paid and free fireworks exhibitions will be held in West Brom, particulary in Darthmouth Park and Victoria Park. Both events are organised by Sandwell Council. Sutton Coldfield will celebrate Guy Fawkes Night at Little Hay Miniature Railway and Sutton Coldfield RFC. As an added bonus for those can't make it this weekend, their fireworks displays will also happen the following weekend.
Dudley also offers various Bonfire events located at West Midlands Safari and Park and Himley Hall. If you are in Wolverhampton, check out displays at the Weston Park and Wolverhampton Racecourse.
We at Essay Writer wish you a lively and safe Bonfire Night. If you need assistance in writing an essay about this celebration or other events, please do not hesitate to contact us. Our experts will help you come up with high quality academic work. Please fill up the order form to get started.